Short presentation in English
Konstskolan LINNEA, School of Art provides a post-secondary supplementary
education for people with intellectual disabilities. The course runs for 3 years,
and there are 12 places/annum. The governing body is the Stockholm Folk High
School Trust/Södra Stockholms folkhögskola part of Folkuniversitetet
Kursverksamheten, the University of Stockholm.

Applicants should have artistic talent and the desire to work with figurative art.
Our students should also be able to follow and understand a teacher-led course.
Applicants visit the school and show their works - sketches and paintings.
A practical period - one or two weeks - is then offered, after which applicants
may apply in writing. In May we inform applicants if a place is available, and
our course begins towards the end of August.

Konstskolan LINNEA, School of Art receives grants from the state and from
local authorities. Our students are supported by the LSS-law for people with
intellectual disabilities.
Our students pay a fee for materials. Our teachers are practicing professional
artists. We teach painting, drawing, graphic art, ceramics, music and creative Swedish.
Konstskolan LINNEA, School of Art's goal is to:
offer a true art education which inspires our students to become more independent and more able to express themselves
allow our students to enjoy new languages and means of expression of art that we provide
give our students the chance to use the education we provide in their work,
in art-orientated special activities or in applying for other art courses and work.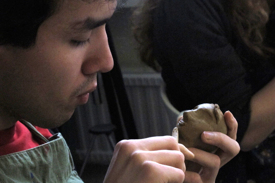 Here we work with stoneware clay. We thumb, coil and roll out original forms
which become pots and bowls. We work on the pots with a spoon or a stone, making
them shiny and hard. Then we burn them in an oven that we build of bricks outdoors.
We learn to know the character and plasticity of our material but also its unruliness.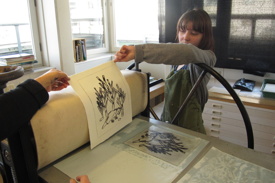 This is a way of reproducing a picture. We scratch plastic or lacquered cartoon with
a sharp needle, then colour the picture and use a press to print it on grafic paper.
Usually we make black prints, but all colours may be used. We learn about the history
of printing, materials and graphical devices.